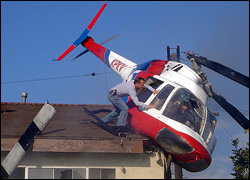 Welcome to the SAFETY ADVISORY for FIRE & FX in ENTERTAINMENT (SAFFE) web site!
Inside you will find useful information, documents, discussions, and guidance for a safe motion picture, television, or entertainment production in your community and/or fire protection district.
Formally established in 1996, SAFFE is a non-profit organization for the open dialogue, training, presentation, and demonstration of fire and life safety practices in the entertainment industry.
In addition to resolving regular business issues and concerns, we conduct roundtable discussions for topics related to, experienced by, or directly affecting those attending our meeting(s).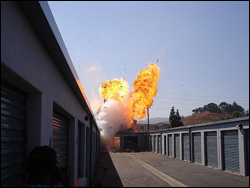 Topics of training and demonstrations have included; pyrotechnics and explosions, open flame devices, fire-resistive paint, fire performers, lighting equipment, generators, non-guns, electronic and manual detonators, helicopters, stunts, as well as other special fx devices and situations.
We hold our meetings quarterly at various locations (usually motion picture production studios) in the Los Angeles area. Our meetings are open to anyone who will actively participate in our common objectives and assist us in the advancement of entertainment fire and life safety.
One of the goals of our web site is to develop an internet forum for members to share information and have a timely exchange of ideas regarding entertainment fire and life safety.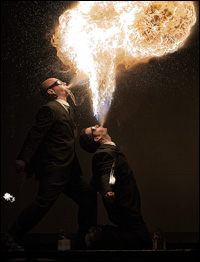 We also provide templates and examples of permit applications, safety checklists, safety regulations, and operating guidelines for you to utilize and model after for use with your organization or event.
Look for future postings of our meeting agendas and past minutes, and monitor our resources page, as we will be continually adding to it so as to provide you with additional information resources that can further assist you.
Please feel free to contact us about any suggestions, questions or concerns.
If you would like to attend a meeting and/or join SAFFE, please contact Rich Momii with the information on our Contact Page.