Mission Statement
SAFFE is a professional partnership of the fire service and the entertainment industry that provides a forum for the exchange of ideas and information promoting safety and protecting life, the environment, and the property the industry works in.
Objectives
We are a consortium of the fire service and entertainment industry acting as an ombudsman for fire service personnel, studio safety representatives, special effects operators, production representatives, venue management, and related organizations.
Our intent is to provide answers to the many recurring questions dealing with permit activites, special effects, fire effects, fire prevention, stunt activities and other related issues.
Through education, the varied and unique challenges of filming activities can be addressed with uniformity and consistency.
Motion picture, television and entertainment industry production activities can have a positive effect on a community and its economy – our goal is to further that objective.
Meetings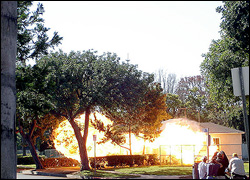 SAFFE meetings are held quarterly at various locations in the Los Angeles area – usually at one of the major studios. Discussions involve addressing old business thoroughly, discussing new business such as recent accidents, experiences, ideas, new regulations/laws, and a roundtable session updating the forum on current production activities and how members are mitigating them.
General Meeting Agenda
0900 – Self introductions
Administrative business
State Fire Marshal update
Old Business
New Business

Recent accidents review
Pyrotechnic-involved stunts

Scheduled Break
Roundtable
Presentation
Adjournment
SAFFE Members
Organizations
Alliance of Motion Picture & Television Producers (AMPTP) – http://www.amptp.org/
Alliance of Special Effects & Pyrotechnics Operators (ASEPO) – http://www.asepo.org/
Blackstar Helicopters Inc. – http://www.blackstarhelicopters.com/
California Film Commission – http://www.film.ca.gov/
California State Fire Marshal – http://osfm.fire.ca.gov/
Firemans Fund IC – http://www.firemansfund.com/
North American Fire Arts Assoc. – http://www.nafaa.org/
Contract Services Administrative Trust Fund – http://www.csatf.org
United Fire Artists – http://www.unitedfireartists.org
Fire Departments
Burbank – http://www.ci.burbank.ca.us/index.aspx?page=147
Culver City – http://www.culvercity.org/Government/PublicSafety/Fire.aspx
Downey – http://downeyfiredepartment.org
Glendale – http://fire.ci.glendale.ca.us/
Long Beach – http://www.longbeach.gov/fire/default.asp
Los Angeles City – http://www.ci.la.ca.us/LAFD/
Los Angeles County – http://www.fire.lacounty.gov/
Manhattan Beach – http://www.ci.manhattan-beach.ca.us/Index.aspx?page=123
City of Orange – http://www.cityoforange.org/depts/fire/default.asp
Orange Fire Authority – http://www.cityoforange.org/depts/fire/default.asp
Santa Monica – http://www.santamonicafire.org/
Ventura County – http://fire.countyofventura.org/
Studios
20th Century Fox – http://www.foxstudios.com/
CBS – http://www.cbssc.com/
Disney – http://studioservices.go.com/disneystudios/index.html
MGM – http://www.mgm.com/
NBC Universal – http://universal.filmmakersdestination.com/
Paramount – http://www.paramountstudios.com/
Raleigh Manhattan Beach – http://www.raleighstudios.com/
Sony Pictures Entertainment – http://www.sonypicturesstudios.com/
Turner Broadcasting System – http://www.turnerstudios.com
Warner Brothers – http://www2.warnerbros.com/wbsf/
Other Members
Chapman University – http://ftv.chapman.edu/